Small Biz Cares Featured in Media & Expert Content
Small Biz Cares Featured in Media & Expert Content
At Small Biz Cares, we are proud we've had the opportunity to be in the spotlight on multiple occasions throughout the past year. Our appearances in the media have ranged from interviews with 10TV, to featured articles, and guest speaking on podcasts These media appearances showcase how Small Biz Cares has been able to adapt to a COVID-19 world and our continued impact on the community.
Conquering Columbus Podcast
Nevin joined Conquering Columbus to speak about the services Outreach Promotional Solutions offers as well as the Small Biz Cares mission.
"Nevin Bansal is the Founder and CEO of Outreach Promotional Solutions as well as the Founder, Chairman and Executive Director of Small Biz Cares. Outreach Promotional Solutions is part print, promotional apparel, and logo apparel as well as part graphic design and web design shop. Nevin took a community-driven approach to Outreach Promotional Solutions, building community partnerships, supporting local nonprofits, and building solutions that help companies promote their brand. While Small Biz Cares mission is to connect, mobilize and inspire small businesses to create lasting positive impact in our community."
Small Biz Cares has been featured on 10TV multiple times throughout the past year for our impact on the community, various fundraisers & Nonprofit Appreciation Week.
Our first appearance on 10TV recognized our work supporting racial justice with a yard sign fundraiser which raised $5,700 to support The Columbus Urban League & provide scholarships to Columbus State Community College.
Among various other TV appearances to speak about the impact of nonprofits during the COVID-19 pandemic, Small Biz Cares was also featured for Nonprofit Appreciation Week. The week showcased many of Central Ohio's nonprofits & raised awareness for their causes through a variety of virtual events & panel discussions.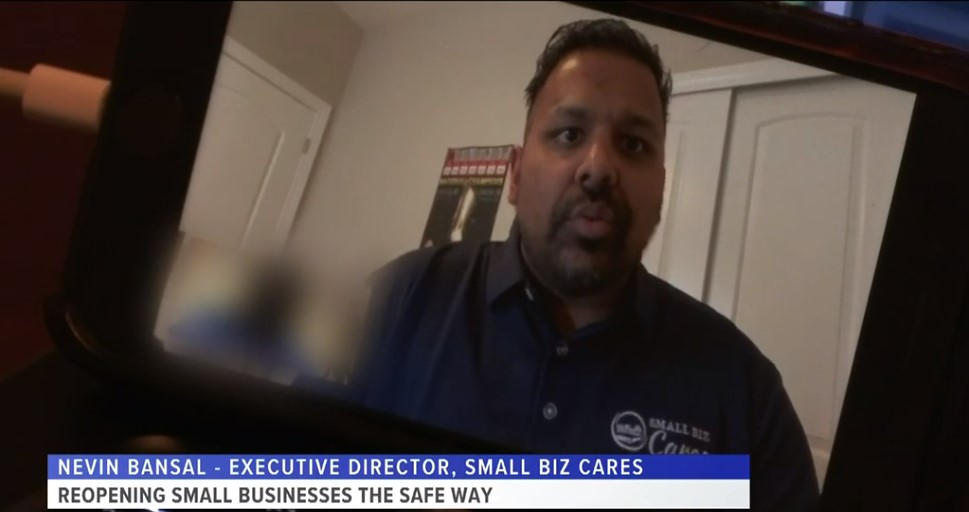 Small Biz Cares Executive Director, Nevin Bansal, was featured on the Mosaic Life Podcast to share his experience building an award-winning marketing agency & leading a nonprofit that engages small businesses for philanthropy.  Nevin lays out his path through Corporate America and why he chose to chase a more impactful career. To hear more about Nevin's professional journey, the impact of Small Biz Cares, & the nonprofits plans for 2021, you can find the full Mosaic Life Podcast here.