Position: Director of Membership and Programs
**This can be a part-time or full-time role depending on the candidate**
Description: Small Biz Cares seeks an organized, self-directed, and motivated individual for the Director of Membership and Programs. This person will be working with leadership to drive membership, promote the organization and execute programs. Person should ideally have experience in the nonprofit and/or small business world.
Responsibilities & Requirements:
Drive membership through sales and marketing activities including outbound and inbound activities – lead generation, sales and communication activities
Drive new partnerships/sponsorships to support the mission of Small Biz Cares
Work with marketing agency to execute marketing programs, social media and leverage marketing messages for sales activities
Manage events including planning, logistics, and execution
Compensation and Hours: *Part-time from 20 hours a week; full-time at 40 hours per week and may include some morning/evening events (full-time compensation range between $32,000 to $40,000 depending on the candidate)
Full-time candidates also eligible for medical, dental, vision benefits, 401k and paid-time off.
Qualifications and Skills
Highly responsible and responsive
Ability to get things done
Problem-solver
Great communicator
Sales experience preferred
Great attention to detail
Going above and beyond the call of duty
Comfort with MS Office, CRM software, and general computer skills
Ability and willingness to work in an entrepreneurial, ambiguous, and changing environment
To apply, you can email your interest and resume to Nevin Bansal at nevin.bansal@smallbizcares.org
About Small Biz Cares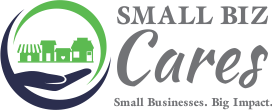 Founded in 2018, Small Biz Cares is a 501(c)3 nonprofit organization created with the mission is to connect, mobilize, and strengthen small businesses to create a lasting positive impact in our community. Small Biz Cares was founded by local small business leaders committed to creating a unique organization that is philanthropic and driven by small businesses.
It is our belief that small businesses are the lifeblood of the economy and the community. Through Small Biz Cares, members have a unique opportunity to join like-minded businesses to raise money for great causes, participate in large-scale volunteer efforts and improve the educational opportunities for youth in our community.
By sharing stories of small businesses that are making an impact, we provide exposure to our members as well as inspiration to those looking for creative ideas.
Small Biz Cares members are community leaders, socially conscious, and driven to make a difference.
To apply, you can email your interest and resume to Nevin Bansal at nevin.bansal@smallbizcares.org