Tailgate for Charity raises $3,300 for She Has a Name
On September 28th, football fans, families, and friends gathered at Grove City Brewing for the first Tailgate for Charity presented by Small Biz Cares. This year's event benefited She Has a Name, a local nonprofit organization that exists to fight human trafficking.  Specifically, funds raised are going to the Strategies for Success Scholarship Fund.
"We are grateful to have partnered with Small Biz Cares for the 2019 Tailgate for Charity. The event provided awareness about the issue among participants and funding for She Has A Name's Strategies for Success Scholarship. Scholarship awardees are local survivors of human trafficking working toward professional degrees. The program provides financial and relational support as they go back to school. This makes a difference in their lives as they consider augmented options for professional careers." Courtney Schmackers, Executive Director of SHAN
Tailgate Recap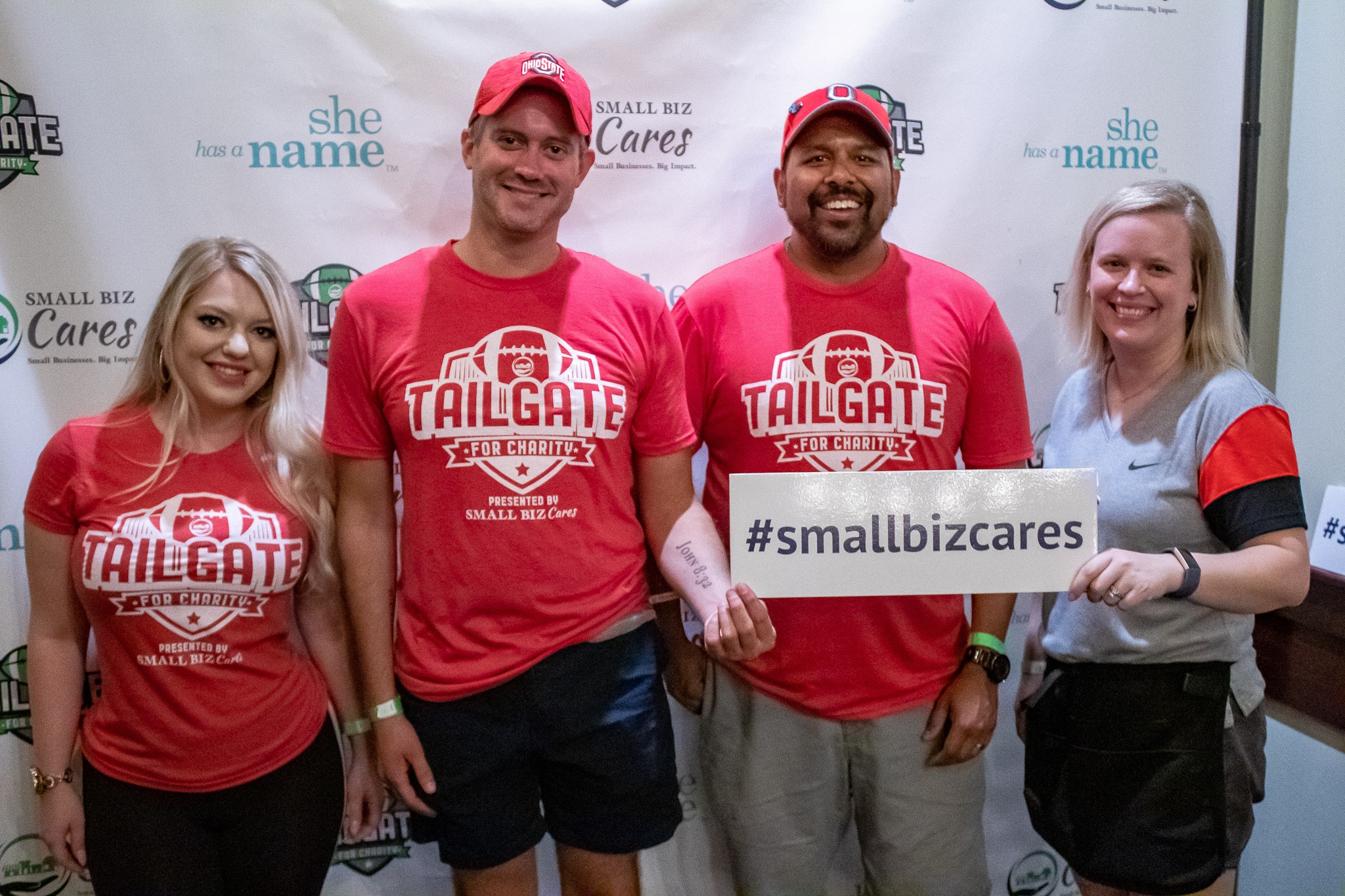 The event featured a two hour tailgate and a watch party for the OSU vs. Nebraska primetime game.  In addition to the game, those who attended enjoyed a tailgate food menu, specialty cocktails featuring Hotel Tango spirits. There were also raffles, auction items, and giveaways.  Several former Buckeyes came out to enjoy the event as well, including Small Biz Cares Board Member, Jake Stoneburner.
Funds were raised through sponsorships, ticket sales, raffles, and donations. In addition, Grove City Brewing donated $1 for every drink sale.
"There were so many winners!  Those in attendance won raffle prizes and had a great time.  The Buckeyes had a dominant performance over Nebraska.  Most of all, we were able to raise meaningful dollars to support a great organization and directly impact victims pursuing education," said Nevin Bansal, Executive Director of SBC.
The event was made possible through the generosity of many partners, donors, and sponsors.  Official sponsors for this event included Outreach Promotional Solutions, Wright-Patt Credit Union, The Better Business Bureau of Central Ohio, The Greater Columbus Sports Commission, Capital Plus, KCR Entertainment, and Rigid Image Photography. The venue partner Grove City Brewing contributed significant resources and partners to make sure the event was a success.
Looking Forward, Tailgate Tails into Membership Drive
Tailgate for Charity was only the first example of Small Biz Cares' fundraising efforts.  "As we look to 2020, we are planning to have several fundraising events to support great causes and engage business owners, professionals, and the broader community," says Bansal.
We are continuing our partnership with She Has a Name during our October Membership Drive! Every dollar of the base contribution ($250) of each new member will be added to our raised amount for the Strategies for Success Scholarship Fund! View our membership page here.