POINTers for employee engagement and community connection during COVID
POINTers for employee engagement and community connection during COVID
 We are all a bit burnt out from the wild ride that has been the year 2020. Our communities are struggling, and there's a lot of things that could make us feel like the world is out of control. Businesses of all kinds have gone through tons of changes and faced difficult decisions. But the best antidote to feeling like the world is going mad is getting involved for something you really care about! Whether you're passionate about helping families keep the pantry stocked, or that kiddos are getting the help they need to learn or want to make sure every animal has a home, there are ways you can get involved as a volunteer on your own or as a company.
First, what is POINT?
POINT is a proud member of Small Biz Cares. We have a free volunteer app for iOS and Android, and a dashboard for companies to manage employee volunteering and giving. We believe in community, and in bringing people-power to local nonprofits, most of which are run by amazing women leaders. We also believe that businesses are an important part of the local community, and want to give local business leaders tools to engage with their employees and the broader community in a meaningful way.
POINT makes it easy to step up, mask up, and show up for Columbus (during and after COVID). You can volunteer as an individual, or your company can use POINT to source group and virtual volunteering opportunities. Find out more about our ready-to-go social impact platform here or invite your favorite nonprofit to join here. No matter how you get involved with your community right now, the important thing is that you do more good!
Why volunteer during COVID?
It probably won't come as a shock to you that local nonprofits are struggling right now. They too are reeling from the effects of COVID, with many trying to make do with extremely limited funds but a growing demand for their services. Whatever your employees are passionate about, there are plenty of ways to get involved! Some nonprofits are offering virtual volunteering–writing letters, reading books on video for kiddos, compiling resources, and more. Others have plenty of ways to safely volunteer in person. Or, for those that have their plate full and can't volunteer time, they can donate money or in-kind goods to local nonprofits (POINT created a nonprofit registry–it's like a wedding registry but for doing good). You can motivate employees to give by committing to match their donations!
One of the biggest needs we're seeing in our communities right now is around hunger. With so many people still unemployed and others with reduced hours or salaries, a lot of our neighbors are struggling to keep up with bills and put food on the table. The good news is that this is an area where we can all help! And there are many options for varying levels of COVID-safety. People can sign up to deliver food boxes to people who are home-bound if they need to be super socially-distanced, or can drop off donations to a local food pantry. For those that feel comfortable masking up and volunteering in person, they can sign up to safely pack up food boxes, or help with handing them out!
COVID is affecting people of color disproportionately due to a number of factors. While we can't wave a magic wand to fix the systems that have disadvantaged entire communities for centuries, we can work to make sure nonprofits that serve communities of color have the resources they need.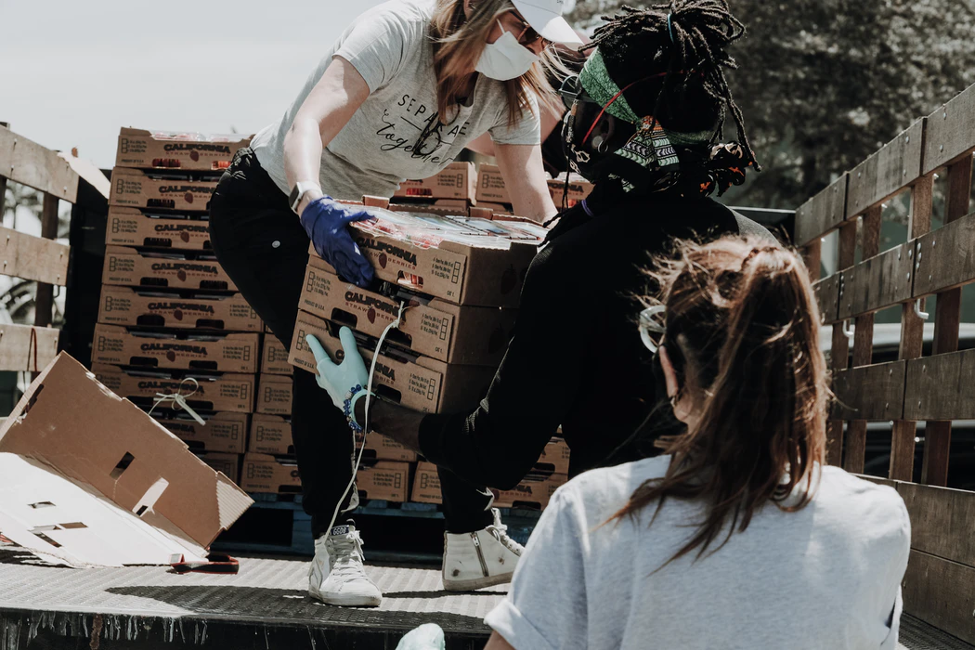 Photo via Joel Muniz on Unsplash  
Keep your employees engaged and happy
While employee volunteering–either individually or as a company-sponsored group–is great for your corporate social responsibility (CSR) initiatives and marketing, it's also good for your employees. Forreal, 94% of employees who volunteer say it improves their mood, and 81% say it strengthened their workplace relationships. At a time when many employees are feeling a bit disconnected and down, doing good together is a great idea. We all know that happy employees are the backbone of a great business. Increasingly, employees are expressing the desire to work for companies that are involved in the community, and give back to their cities. By giving employees an easy way to volunteer or creating a culture that includes volunteering,  you show that you value community connection.
If you don't yet have CSR goals or incentives, providing employee volunteering opportunities is a great way to start. You can reward employees who volunteer and give on their own with PTO or a small bonus after they reach a certain amount of hours or donations (Psst, POINT tracks all employee stats so you don't have to). Or, you can sponsor virtual or in-person volunteer opportunities for your employees throughout the year, and even co-host with a local nonprofit.
Many companies are hesitant to plan group volunteer events due to an abundance of caution and we totally get it. Even just empowering your team with allowing a volunteer day (or half day) off will make an impact AND help your employees feel like your team is doing some good. We've seen a lot of engagement when companies simply offer options to their employees by recommending events on the app to employees and saying something like, "Hey, here's some events this month if you want to do more good."  It's a low-pressure way to support your organization's favorite nonprofits and inspire people to get involved.
Volunteering or donating to groups making an impact in your community gives you a win for your employees' mental health and workplace satisfaction, a win for your company (and marketing staff!), and a win for your community.
Ways to volunteer during the holidays
There is no shortage of ways to volunteer as we get closer to the holiday season. From helping ensure families have Thanksgiving dinner, to wrapping and compiling gift baskets for lower-income families at Christmas (and a whole lot of other fun things!), there are plenty of ways to make sure everyone has a good holiday season!
Here's a sneak peek of events coming up in November for Columbus:
The Small Biz Cares group is a whole bunch of compassionate and community-driven companies. Giving your employees ways to volunteer over the coming months reaffirms your commitment to the community, and shows that you value your employees getting involved for the things they care about. POINT offers an all in one solution to promote your CSR goals and keep your employees engaged and happy.
Have questions or just want to chat? We can't wait to talk to you! Shoot us an email, info@pointapp.org. If you want to learn more about what POINT can mean for your business, chat with our amazing Head of Outreach, stephanie@pointapp.org.