My Reflection On Small Biz Cares Community Service Day
Small Biz Cares' Executive Director Shares His Experience After Our First Community Service Day
When we launched Small Biz Cares our Founding Board team believed that one of the main ways we can all contribute to the common good is by donating our time to volunteer.
But as small business owners and professionals, time is at a premium. We wear many hats, manage teams and drive sales. Many of us are working long hours to grow our businesses and achieve our dreams.
Who has time for volunteering?
Well, on May 15th, almost fifty Central Ohio business owners and professionals took time away from their work to volunteer at five local nonprofits – Habitat for Humanity ReStore, Homeless Families Foundation, LifeCare Alliance, God's Hygiene and Franklinton Farms.
We put together kits and food for those in need. Got our hands dirty beautifying neighborhoods. Supported programs such as Meals-on-Wheels and ReStore.
We capped off the afternoon with a happy hour and networking event at North High Brewing.
The awesome thing about Small Biz Cares Community Service Day is that we are not just doing good. We are connecting with other like-minded professionals, which is opening up new possibilities for business and friendship.
The feedback has been great so far. We already have people asking about the next one! We are definitely planning for a couple more large-scale volunteer events this year in addition to programs that reinforce the "do well by doing good" philosophy.
If you aren't a member of Small Biz Cares, please reach out to me at nevin.bansal@smallbizcares.org. Our goal is to collaborate with community-minded businesses to tell an awesome story of impact. Membership is less than $21 per month. 100% of the base membership contribution goes to support our Scholarship Fund.
The Small Biz Cares scholarship fund is through a partnership with Columbus State Community College. The scholarship helps those with a financial need pursue their goal of a college education.
We have some awesome initiatives planned. We are excited to get more businesses involved!
Check out some of these Small Biz Cares partners for additional volunteer opportunities:

Download the free POINT app to easily find ways to #DoMoreGood in Columbus. POINT matches volunteers with charity events, making it as easy for you to do good as it is to order an Uber. Find POINT on the App Store or Google Play by searching "point volunteer."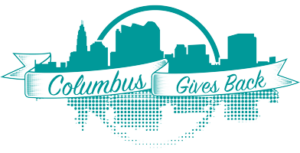 Columbus Gives Back is a 501(c)3 nonprofit organization that provides about 30-40 social volunteer events per month throughout Central Ohio.
My Reflection on Small Biz Cares Community Service Day was written by Small Biz Cares' Executive Director Nevin Bansal.